---
Types of necklaces
---
Types of necklaces and sizes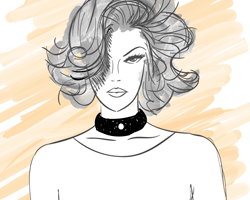 Crewneck /
Collar necklace
∼ 15 in (38 cm)*
Worn halfway up the neck.
This type of necklace is at its best when worn with round neck, boat neck or with dresses showing off your shoulders. In short, any outfit which leaves your neck bare!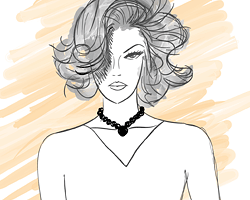 Choker
∼ 16 in (40cm)*
Fits at the start of the neck. It looks the same as the crewneck type except that it's more flexible.
This classic necklace can be worn with most necklines, but is enhanced if you wear a low-cut dress, a blouse or any of the necklines mentioned for the crewneck.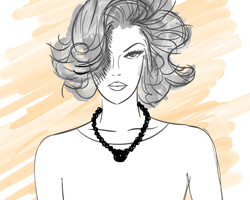 Princess
∼ 18 in (45 cm)*
Hangs slightly below the collarbone.
Can be worn with all types of necklines. It will embellish your neck if you wear a low-cut outfit. It is also very elegant on a polo neck as well as a crew neck.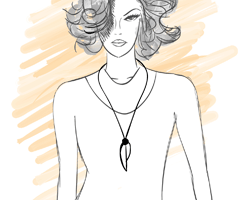 Matinee ou Sautoir**
∼ 22 in (55 cm)*
Sits on the chest.
This mid-length necklace can be worn with any outfit. Great for the office or semi-formal occasions, it adds style and elegance to both dresses and suits.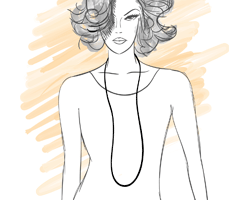 Opera
∼ 25 to 35 in (65 to 90 cm)*
Hangs below the chest.
This chic necklace suits beautifully any evening gown, but can also be worn with a polo neck.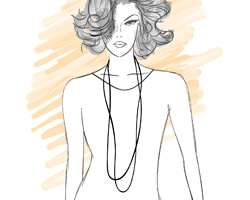 Long necklace
∼ 35 in (90 cm) and more*
Bringing us back in the 20's, this type of necklace was Coco Chanel's favorite. Luxurious and sexy, it can be worn with any neckline and in different ways: one strand, doubled or knotted at the bottom.
Types of necklaces and features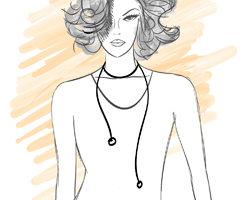 Lariat
Long necklace with no clasp. It can be circled around the neck like a scarf leaving its two strands hanging. It can also be knotted at the chest or slipped into a loop as a lasso. In fact, that's why it is sometimes called the lasso necklace.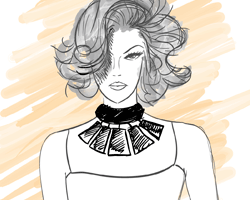 Plastron
Necklace worn close to the neck. Usually very imposing, it covers part of the chest (somewhat like a bib). It can be rigid or flexible.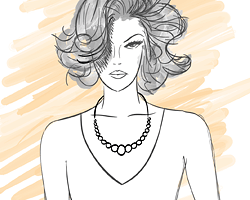 Graduated necklace
One-strand necklace having the size of the pearls graduate from the clasp to the front of the necklace.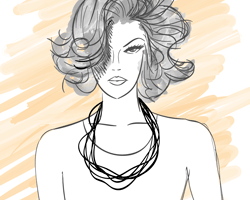 Twist
Necklace made of several twisted strands.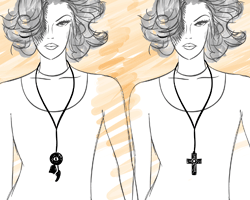 Lavalier
Necklace with one or more pendants at the front forming a Y design.
Rosary
Y-shaped necklace having one cross pendant only.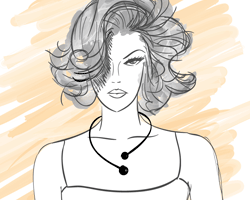 Torque
Of Celtic origin, this rigid necklace is worn near the neck. It is usually made of metal, without a clasp and openended at the front or back. It is distinguished by its simple but yet refined style, and finished with either spherical or more imposing ends.
---
*The lengths mentioned include the clasp.
**Nowadays, the term «sautoir» usually refers to any long necklace that can be worn as is or looped around the neck two or three times. Because of its various lengths, it sometimes refers to matinee, opera and long necklaces.