---
Beader's dictionary
---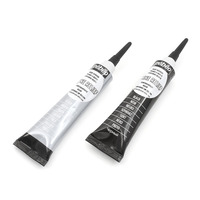 Pebeo relief outliner is a water-based opaque clay that is used to make embossed patterns. The clay is ready to be used and can be applied straight from the tube. The clay can be applied on many different surfaces such as glass, porcelain and cleaned wood. Drying time is 1 hour (surface) and it takes 24 hours for it to fully dry. This product is available in 7 colors, in 20ml tubes.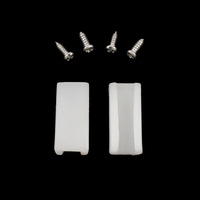 Nylon tips used to replace flat or round or combo nylon jawed pliers tips when they are overused. Some tips are screwed and others are simply inserted over the jaws of the pliers.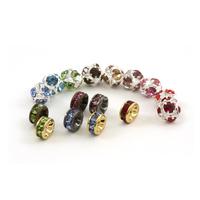 Rhinestones are originally rock crystals (translucent quartz) from the banks of the Rhine river, in Germany. In 1775, the Alsatian jeweler Georg Friedrich Strass had the idea to coat these crystals with metal powder, to increase their refraction. The result provided an excellent and inexpensive replica to diamonds. The name of their inventor is also used to designate rhinestones : Strass. With the evolution of technology, rock crystals were replaced by lead crystal. Swarovski is the largest producer of synthetic rhinestones. In 1955, with the advent of Aurora Boreal reflection (AB), rhinestones benefited from the discovery as well. It is now possible to see the rhinestone with a rather silvery colored shine or AB reflection. The rhinestone was dethroned as the best diamond replica by the creation of cz (cubic zirconia) in 1980, but it held its own in the fashion and jewelry industries. Rhinestones can be facetted then glued or set on a jewel or a string. Nowadays, colorful rhinestone that imitate precious or semiprecious stones can be purchased at an affordable price. Rhinestone have several aliases : strass and glitter diamond amongst others. In fashion jewelry, they are often found as chains, separators or metal beads.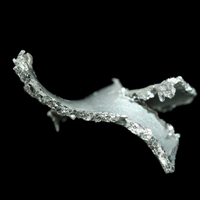 RHODIUM
Rhodium is a precious metal belonging to the platinum group. It is a rather expensive metal because of its rarity and the difficulty to mine it. It is a silver colored metal that has whitish highlights. It is used as an alloy when making sterling silver and gold instead of nickel. Some jewelry and sterling silver chains are often plated with rhodium to minimize the natural oxidation of sterling silver. Rhodium is a very durable metal, as it does not oxidize. This metal as well as nickel is used for plating and often replaces it because of its hypoallergenic properties.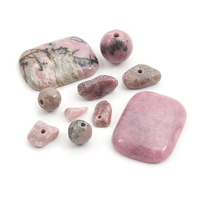 Rhodonite, a stone from the silicate family, is normally pink, its color ranging from a dark pink to a fleshy hue. It is covered with black dendritic inclusions (resembling a tree). It takes its name from the Greek Rhodon, meaning "rose." It can be transparent or opaque, but transparent specimens are very rare. It is issued from South Africa, Australia, Canada, the United States, Finland, Japan, Madagascar, Mexico, Russia, Sweden and Tanzania. It is usually cut in cabochon, beads or other objects.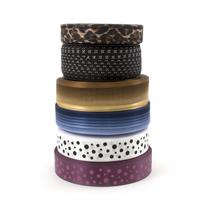 The ribbon can be used as the base for a jewel. In fact, a pendant can simply be added or beads can be hung to it. The ribbon may also be a decorative element, such as a knot or fringes. It can even be used as a finishing touch to a necklace or bracelet (tied as a loop). It adds a touch of lightness and femininity to any jewelry. The ribbon can be made of organza, silk or another textile. It can be used or knotted with ribbon connectors for a clean finish.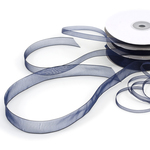 The organza fabric is sheer and is not stretchy, it is quite similar to muslin. Rather rigid in appearance, organza is commonly used to make sheer curtains and tutus. In fashion jewelry, organza is found as ribbons and gift wrapping. The organza ribbons are available in different colors and widths ranging from 1/8 to 1/2 inch. They add a chic element and complement any jewelry. The ribbon threading technique allows the beads to remain in suspension without using glue or knots.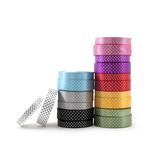 Silk ribbons can be found in many colors, sometimes with printed patterns. Their ends may be burned to prevent fraying ribbons.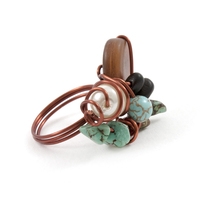 A ring is a jewel that is worn on the finger. It is made of three parts : the hoop (ring) that encircles the finger; the bezel which is the adorned part (with the setting) above the finger; the shoulders which are the portions of the body which connect it to the bezel. When a ring does not have a setting and the ring body extends evenly, it is a band or wedding ring. There are several types of rings.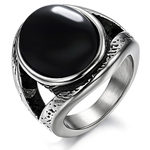 Massive ring with a wide and flat bezel engraved with inscriptions. Worn mostly by men, this ring is often entirely made of metal or adorned with a stone or cameo.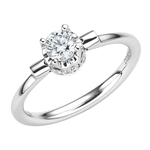 Unique stone and, by extension, a ring set with a single stone, usually a diamond. For a fashion jewelry piece, there are metal ring bases equipped with surfaces to glue, Loops for hanging charms or a dome in order to weave in beads. Most of these rings are adjustable.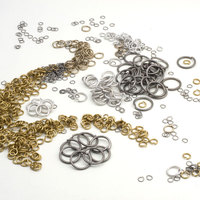 We call all ring any element shaped as a circle that has a hollow a center. A ring may be made of metal, plastic, wood, etc. If it is made of metal, it may be welded or not, be made of round wire, half-round, square or twisted. To make metal rings, just wrap a wire around a mandrel to form a spring. It can then be cut to obtain several individual rings.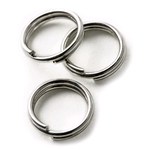 The double ring is a ring extending over two revolutions, like the rings of a key ring. Since the wires of the ring overlap twice, they are more reliable than a single ring. They are however more difficult to use. They are made of different materials, as single rings, but the wire size will generally be smaller, as the ring must be flexible enough to be half-opened, and have enough spring to close on itself. They are mainly used for finishing jewelry because of their safety factor. To pry it open, use one of the double ring clamp, it greatly facilitates the work.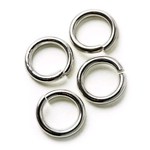 Welded or not, a simple ring can be made of different materials such as copper, aluminum, titanium, bronze, sterling silver and gold. The rings are made from different sizes of wire. The most malleable and most colorful are often made of copper and aluminum. Simple rings are generally round, but can also be of an oval, square, or diamond shape, etc. For fashion jewelry, rings are often used to install clasps or to attach a charm. Sometimes, they are also the main component in a piece of jewelry, such is the case for chainmails. Simple rings can easily be opened or closed with the help of two flat pliers.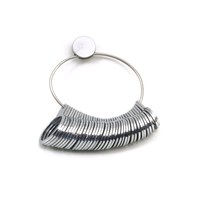 Tool that measures the ring size of fingers. Several rings hang from a key-chain like wire. The rings are graded in half point increments to make measures more accurate. Several ring sizers are used to take measures. Some are very thin to measure thinly made rings and others are thicker for thicker rings such as ring bands or signet rings.
In the fashion jewelry industry, a rubber tube is a decorative tool. which can be used to thread strings (metallic strings, memory wire, fishing line, Tigertail etc.) and cut them to the desired size. It can be used as a separator between strung beads or on a string or used to create a cordon-like effect. If it is strung on a metal wire, it can be shaped into different forms, otherwise it can take more or less the flexible shape or a cord.