---
Beader's dictionary
---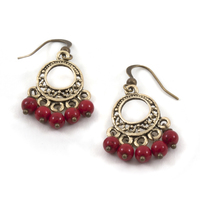 EARRING
Earrings are jewelry worn on the ear. There are different types, which are often defined by their attachment system or their particular style. The main attachment systems or styles are: Clip-on System used for non-pierced earlobes. The post and the push-on clip (also called stroller clasp) There are different types of stops for post earrings: push-on clips made of metal, acrylic, rubber and those larger plates made of metal and acrylic. For security, there is also a mounting system "Alpa" (guardian earring). It is a small disc with two tabs on which you must press to put in place the push-on clip on the post preventing it from falling. Posts can be sold with a ring to hold beads or with a dome permitting the addition of an half-drilled pearl (pearl button) or non-pierced. The hook (ear-wire) There are several types of hooks. Some are equipped with a security system at the rear (safety wires or kidney ear-wire), like the closure of a safety pin, and others are lever-back. Rings (hinged snap back) They simple close on themselves.
Creole earrings
Originally, it was the name given to the earrings shaped as loops worn by slaves in the Caribbean. Today, the term refers to any large loop on the ear.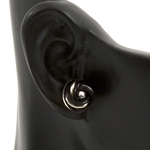 Ear studs
Also called chips earrings or stud earrings, they are small earrings demurely decorating the earlobe. They are provided with a post and a push-on clip.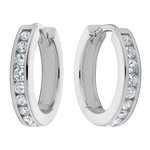 Huggers
They literally hug the ear following the earlobe. They have an hinge at the bottom of the earring, allowing them to open and close around the ear. No clip or stopper is required for this type of earring.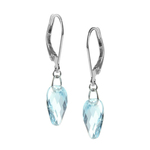 Sleeper earrings
Small earrings consisting of lever hooks and pendants. A little bit of history: The original sleeper earrings were worn at night to prevent the holes from closing. This is how they got their name. Nowadays, this type of earrings is worn daily by everyone. They are especially valued for their hooks that hold them into place.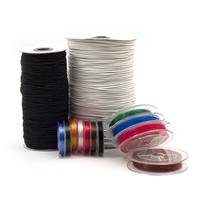 Elastic strings are made of rubber, an elastic and impermeable substance that can be found in its natural state (produced by trees such as the Hevea brasiliensis also known as rubber tree) or synthetic (derived from petroleum). The elastic can be stretched without braking and regain its original shape. However, with time it slowly looses these characteristics. There are several kinds of elastic strings.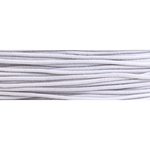 Elastic fabric threads are made from several elastic filaments covered with fabric. Of a larger diameter, it is used with beads that have a larger hole. The fabric wrapping protects the elastic fibers against repeated friction and provides it with a very useful adherence when making knots that are solid.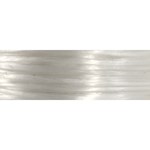 Lycra is an elastane trademark, a synthetic fiber that is very elastic, its also known as Spandex. Lycra was created in 1959 by an american firm called Dupont. it is made of 85% of segmentary polyurethane, lycra possesses impressive proprieties both in terms of elasticity and stretching resistance; it can extend up to 7 times its original length, then regain its shape after some of the pressure is loosened. Lycra strings that are sold to make fashion jewelry are made from a blend of several fibers. It is used to make higher end weaving patterns. its silky texture and its slightly flat shape allows it to be strung several times over in the same bead to create a more complex pattern. This string has a great elasticity and is not altered by water or heat. However, because it is made from several different fibers, through time and repeated use it tends to fray and even lose some of its fibers.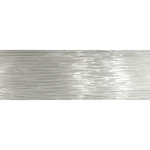 The monofilament string, is an elastic string that is made from a single fiber. it can be found in different sizes and colors. It is mostly used to make simple strung necklaces and bracelets. Made from polymer, this string is a kind of extruded nylon. This means that the polymer is pushed through a hole, depending on the size and weight of the string. This string can dry out if exposed to heat or to the sun for too long, which will result in the string being more prone to braking. Equally, if this thread remains in water too long, the string will be altered, which will result in a string with loose knots. It is thus recommended to apply a drop of glue on the knots.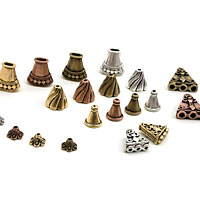 Use to finish multi-row necklaces or bracelets, the end cap's purpose is to hide the junction of the various rows and to provide a more professional finish.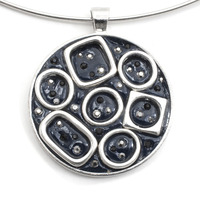 Epoxy jewelry clay is a mix of epoxy and clay. Each package has two components to mix in equal parts. The mix of both components triggers a chemical reaction that hardens the paste when in contact with air. The paste is easy to mix and shape, mold and texture. It also has a great adherence to minerals, crystals, metals, glass and wood. Working time is about 2 hours before the clay starts to cure. Drying time is about 5 hours for a partial cure. For a full cure 24 hours is needed. The resulting product can be pierced, sanded and painted. Read the provided instructions before proceeding.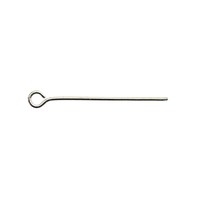 Metal rod that can vary from 16 mm to 75 mm, equipped with a loop (grommet) at one of its extremity. These metal rods are mostly used to make links. Just insert an element on the rod, like a bead, then make a second loop (grommet) on its other extremity with round nose pliers. By opening and closing the loop in one another, it is possible to make a pattern, such as a rosary-like pattern. It can be found in various metals such as sterling silver, vermeil, gold-filled and in other alloys, in diameters reaching from 0.5 to 0.7mm.